Archive for Červen 2020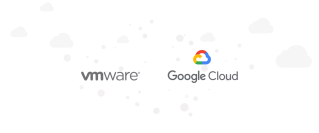 Google Cloud VMware Engine is a first-party, fully managed VMware service that lets you modernize and enhance existing applications.
---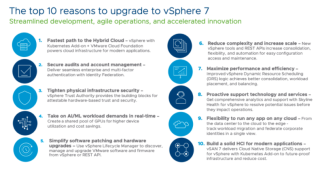 vSphere Trust Authority (vTA) is a new and very foundational technology right now. If you are a security-oriented customer with large deployments, you should look at this feature!
---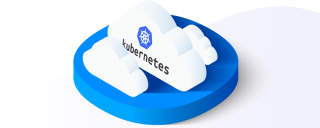 Kubernetes as a Service. How you can request, deploy and manage Kubernetes Clusters and Namespaces with vRealize Automation using the self-service catalog.
---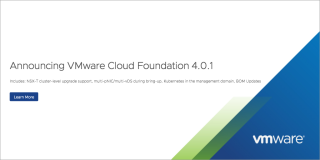 VMware is proud to announce General Availability of VMware Cloud Foundation 4.0.1 providing important enhancements and features to the full stack HCI solution. Within VMware Cloud Foundation 4.0.1, the following new enhancements are now available: NSX-T cluster-level upgrade support: Users can […]
---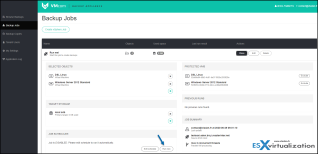 VMcom Backup is a new young product for VMware vSphere and ESXi Free version which is easy to install and use. VMcom Backup For VMware vSphere can be deployed via an OVF file and has a fast, HTML 5 web-based UI.
---
This blog post will walk through how to use PowerCLI, Pester for VMware Cloud on AWS, NSX-T and vCenter. No prior knowledge of PowerCLI or PowerShell is required to read this blog. In recent weeks, I have had the opportunity to participate in the construction of the VMware Hands-On Labs as a […]
---

Continuing the last post, now we will be converging vCenter Server with External PSC to vCenter server with Embedded PSC using vSphere Client. We can still use the scripted procedure which was available in vSphere 6.7 U1 but for the ease of demonstration I am using vSphere 6.7 U2 with vSphere […]
---
How to patch Intel NUC 10 with latest ESXi 7.0 update?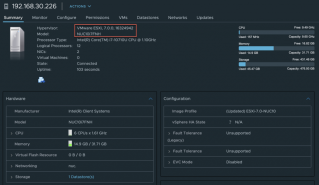 vSphere 7.0b was just released last week and one of the important fixes was to resolve an issue where Nested ESXi VMs were crashing upon powering on an inner-guest VM. This looks to have also affect newer generations of CPUs including Intel's 10th Gen Comet Lake which is also found in the latest 10th Gen […]
---
VMware Cloud on AWS Hands-on Lab. Hands-on Labs are the fastest and easiest way to test-drive the full technical capabilities of VMware products. These evaluations are free, up and running on your browser in minutes, and require no installation.
---

VMware earlier this month has extended the VMware End General Support for Sphere 6.7 until October 15, 2022. vSphere 6.7 had End General Support on Nov 15, 2021, that now has been extended. With this extend VMware is giving customers more time to upgrade from 6.5 to 6.7
---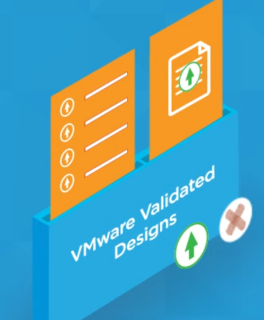 VVD – VMware Validated Design for Software-Defined Data Center 6.0.1 is now live and available.
---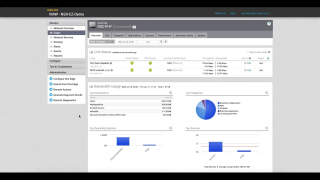 Video ukazuje jednotlivé části grafického rozhraní s vysvětlením jednotlivých funkcí jako přehled možností technologie NSX SDWAN by VeloCloud
---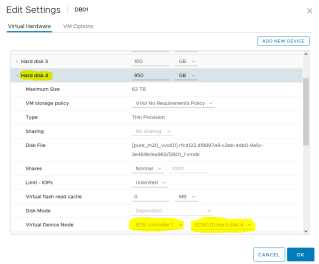 I recently had a great question on some of the differences in virtual machine disk presentation from one of our amazing clients, and I thought I'd share the answer here because it's a common question that I receive.
---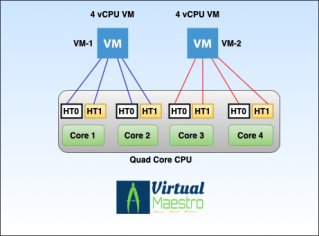 This post will be focussing specifically on working of CPU scheduler in Default, SCA v1 and SCA v2 modes in 6.7 U2 and later. VMware vSphere 6.7 U2 added new scheduler options (SCA v2) which provides security for L1TF vulnerability, while retaining as much performance as possible. Note: SCA is […]
---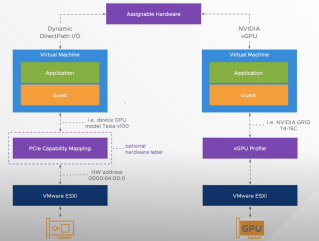 A dive into 'What is VMware vSphere 7 Assignable Hardware?' Let's take a look at what this is, why it is needed, and a closer look at how assignable hardware is implemented in VMware vSphere 7.
---