Archive for vmware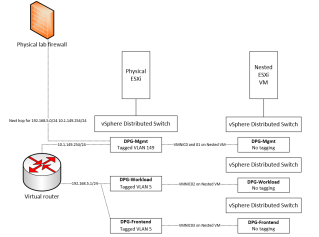 VMware vSphere with Tanzu Nested Lab Networking Configuration including physical, nested, ESXi network configuration, VLANs, and routing.
---
Photon OS team at VMware is pleased to announce the Beta release of the Photon 4.0. Photon 4.0 builds upon the innovation of our enterprise class, Open Source virtual appliance OS, which can be found powering thousands of deployments the field. With exciting improvements to the 3.0 rev 2 […]
---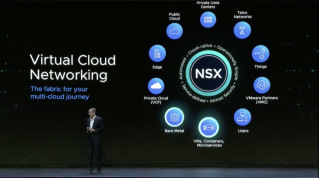 Join VMware executives, customers and industry thought leaders for an online event discussing the need for a modern network. They will showcase VMware's Virtual Cloud Network, and highlight networking solutions that deliver agility, transparency and simplicity.
---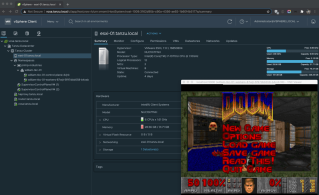 Since the release of vSphere 7.0 Update 1, the demand and interests from the community on getting hands on with vSphere with Tanzu and the new simplified networking solution, has been non-stop. Most folks are either upgrading their existing homelab or looking to purchase new hardware that […]
---
The Gorilla Guide To…® Maximizing VMware vRealize Operations (Updated for 8.1 and Cloud!)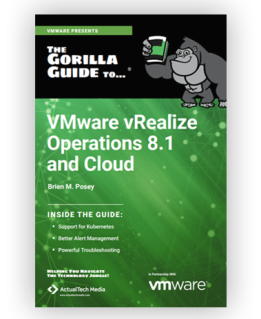 It's tough to keep up with the rapid evolution of vRealize Operations these days. Just when you think you have a handle on the latest and greatest, the new release drops – and there's more to learn/know/see/do. App discovery integrations with vRealize Network Insight? Monitoring for "Kubernetes anywhere" – including Prometheus integration? Credential-less service discovery? The post The Gorilla Guide To…® Maximizing VMware vRealize Operations (Updated for 8.1 and Cloud!) appeared first on…Read More
---
Agenda of this post is to run through the implementation of a KMS solution – Hytrust KeyControl and use it to enable data at rest encryption for vSAN datastore and VM level encryption as well.
---
Simplify the Modern Network with VMware NSX-T 3.1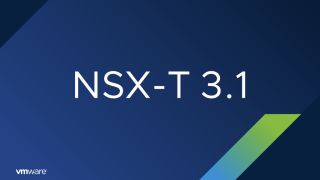 Continuing our commitment to helping organizations around the world deliver a public cloud experience in the data center through VMware's Virtual Cloud Network, we're excited to announce the general availability of VMware NSX-TTM 3.1. This latest release of our full stack Layer 2 – 7 networking and security platform delivers capabilities that allow you to The post Simplify the Modern Network with VMware NSX-T 3.1 appeared first on Network and Security Virtualization.
---
Every 6-9 months VMware has been pushing out a new feature release of vSAN. After vSphere and vSAN 7.0, which introduced vSphere Lifecycle Manager and vSAN File Services, it is now time to share […]
---
vSAN 7 U1 File Services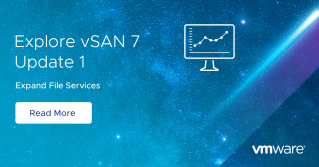 Native File Services in vSAN 7 Update 1 The introduction of vSAN 7 included the debut of native file services. This not only provides an extraordinary level of flexibility for administrators, but it provided a key element to serving up cloud native applications in vSAN: Persistent, read-write many (RWM) volumes. vSAN 7 Update 1 The post vSAN 7 U1 File Services appeared first on Virtual Blocks.
---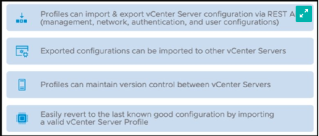 With vSphere 7.0, VMware takes an innovative approach to the vSphere suite, integrating it with the Kubernetes container management platform and adding several updates and features. Learn about the 10 most functional and innovative vSphere 7.0 features.
---

While preparing for this years VMworld, I had the unique opportunity to work across a number of VMware Cloud SDDC solutions such as VMware Cloud on AWS (VMConAWS), Azure VMware Solution (AVS), Google Cloud VMware Engine (GCVE) and Oracle Cloud VMware Solution (OCVS). During the the development […]
---

I've had a bunch of customers asking the past couple of weeks when vSphere / vCenter 7.0 U1 would be supported with SRM. Yesterday (22nd of October) vCenter Server 7.0 U1a was released and this release introduced support/compatibility with SRM.
---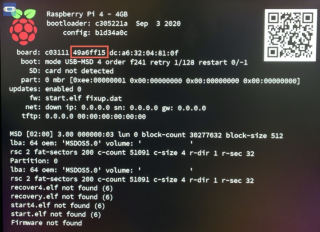 A topic that I have been working on even before the release of the ESXi-Arm Fling is the ability to perform a network scripted installation (Kickstart) of ESXi-Arm for the Raspberry Pi (rPI) but doing so without the need of an SD Card plugged into the rPI itself. The latter point is […]
---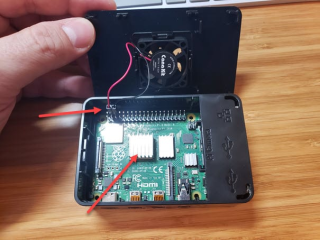 How to Install ESXi-Arm Step by Step on Raspberry Pi 4. A look at hardware, UEFI disk creation, ESXi on Arm ISO creation, installation, boot.
---